Date And Time
Saturday July 20, 2019
8:30 AM – 7:00 PM PDT
Location
SFU Segal Graduate School of Business
500 Granville Street
Vancouver, BC V6C 1W6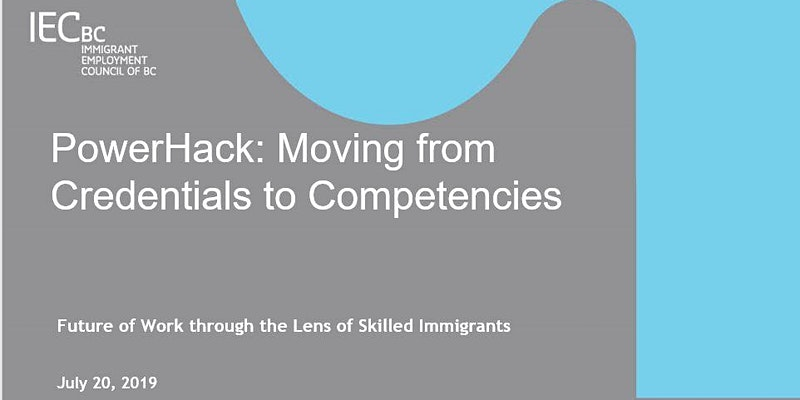 REGISTRATION IS CLOSED
About this Event

One-day Hackathon for newcomers to demonstrate their tech-sector skills, knowledge, and experience to employers and industry professionals.
What's in it for you?
Showcase your competencies, skills, knowledge and experience, to hiring managers, employers and industry professionals
Validate your international training and experience by proposing a solution to a local problem
Learn from others
Connect with local employers and industry professionals
Increase your knowledge of the local tech industry, workplace and hiring practices
Build your professional networks
What is PowerHack?
PowerHack is a one-day hackathon event intended to mitigate the employment barriers of "no Canadian experience" and lack of recognition of international training by providing skilled immigrants and refugees the opportunity to showcase their competencies, skills, knowledge and experience, to solve "real world" problems, and to connect with local employers and industry professionals to build their networks.
Employers and industry professionals will have an opportunity to build their talent pipeline by connecting with local immigrants and refugees with international tech sector skills, knowledge and experience. As well, tech industry professionals will attend the event as observers and resource people.
What are the problems that will be addressed at PowerHack?
The overall theme of the hackathon is the future of work through the lens of skilled immigrants. An example of a problem statement is:
"The gap between traditional education systems and the labour market could grow with increasing automation and digitization, how can we adequately prepare Canadians and newcomers through retraining and upskilling?"
The final problem statement(s) will be provided to participants at the beginning of the hackathon.
Event Details:
IEC-BC will hold four hackathons with the first hackathon to be held on Saturday, July 20, 2019.
Date: Saturday, July 20, 2019
Time: 8:30 am – 7:00 pm
Location: SFU Segal Graduate School of Business – 500 Granville St, Vancouver, BC V6C 1W6
This is an intensive, full day event that will run from 8:30 am to 7:00 pm. Food and refreshments will be provided throughout the day. The day will be informative (micro learning sessions) and energizing (healthy snacks and maybe even a Yoga stretch break!). A detailed agenda will be sent to confirmed participants prior to the event.
Participants must bring their own laptop.
What are the eligibility criteria?
No programming experience is required. We are looking for skilled immigrants and refugees who:
• Are permanent residents or refugees with working permits
• Have international skills, knowledge and experience in tech sectors
• Have intermediate to advanced English language proficiency (CLB 7+)
• Have technical skills such as coding, big data, product development, data analysis or non-technical experience such as business development and project management
• Are motivated and ready to work
How can I participate?
1. Register on Eventbrite.
2. Send an email with your resume to powerhack@iecbc.ca.
The project coordinator will follow-up with you by email and/or phone to gather additional information and answer any questions.
Looking forward to seeing you there!
—
PowerHack is a pilot project funded through the Workforce Innovation and Inclusion Project (WIIP). Led by the Diversity Institute at Ryerson University WIIP is a three-year program that brings together employers, non-profits, and settlement agencies to address the employment needs of newcomers and produce a skilled, resilient Canadian workforce. WIIP is funded by the Immigration Refugees and Citizenship Canada, and will enhance settlement services delivery and provision across Ontario, Nova Scotia and British Columbia.